Another successful dinner & auction
The North Shore Steelhead Association held its 34th Annual Fundraising Dinner and Auction at the Valhalla Inn in Thunder Bay on Friday, March 31st. 2017.
This event was sold out with a crowd of 500 in attendance which made this event the most successful of all of our previous fundraising events. The NSSA owes a very large thank you to the individuals, companies and organizations that continue to provide items for the auction, and to the attendees without whom the event would not be was it is today.
The funds raised will be used locally to invest in the conservation and preservation of the cold water fishery in the District of Thunder Bay.

In 2015, the North Shore Steelhead Association completed a $150,000.00 bank stabilization and habitat restoration project on the McIntyre River a major urban stream located in the center of Thunder Bay.
The NSSA is currently focused on making improvements to the Fish Ladder on Boulevard Lake Dam. The fish-ladder was built in 1992 and now, 25 years later, is in need of some repairs in order to continue allowing fish access to 50 km of prime upstream habitat. It has been estimated that the Current River could support a run of 5,000 adult Rainbow Trout!
We ask that you shop at those businesses that contribute to our association in order to show our appreciation of their support.

Featured Prizes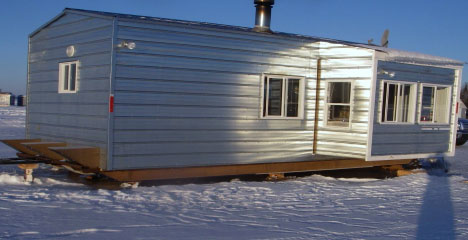 All inclusive weekend getaway for up to four people at a custom ice lodge on Lac Des Mille.
Donated by Larry Dogget
Read More